This post contains affiliate links. Frugal Familia Fun may receive a small commission at no extra cost to you. Learn more.

How to Meal Plan for your Family
It's a fact of life that we all have to eat. I'm betting that most of us probably want to eat well. And if you're here at Frugal Familia Fun, you probably want to eat well, but not go broke doing so.
If that is your goal, then meal planning is going to be your friend. You know the saying "failing to plan is planning to fail"? Well that applies here.
If you don't have a solid plan for what you are going to buy and prepare throughout the week, chances are life will get in the way and you'll end up spending more money on take out then you want.
Meal planning doesn't have to be a time-consuming practice. I never spend longer than 10 minutes each week figuring out our dinners and creating a shopping list.
Still not convinced? Here are my top reasons for meal planning:

SAVE MONEY
Not only is there less of a chance of eating takeout, but I am able to plan meals based off of what is on sale that week.
WASTE LESS
Gone are the days of throwing out leftovers. I am able to cook 1 protein and spread it across multiple meals instead of tossing ⅓ of a chicken here, ½ a pork loin there…
SAVE TIME
Knowing what I will be cooking throughout the entire week allows me to batch cook/prep certain items at the same time. Also I'm not having to run to the store multiple days after work to pick up something for dinner.
SAVE MY SANITY
I dunno about you, but at my house 5 o'clock is always the "witching hour". The kids start picking on each other and meltdowns ensue… I just can't deal with trying to figure out what to make for dinner.
And now that my two oldest kids can read, they don't even nag me about what we're eating. They simply go look at the calendar on the fridge to find out (sometimes they still whine about it though–can't win em all I guess).
EAT HEALTHIER
Although it is possible to eat smart at restaurants, you can never be 100% sure about what ingredients were used. By planning and cooking your own meals you have complete control and can create a more balanced diet for yourself and family.
So now you know the WHY, so what about the HOW to meal plan…
13 Simple Steps to Meal Planning like a PRO
Cook what your family will eat.

Start out by creating a running list of all the meals you regularly cook at home that your family enjoys. This will be the basis for your meal planning.

A lot of people have the misconception that meal planning needs to involve lots of new and complicated recipes but it doesn't. It's just a better way to organize what you already cook your family and when.

Check grocery store sales ads.

I always check to see what's on sale before I look to see what I have on hand. My reasoning is that I need to always be on the lookout for great prices, so that I have a nice stockpile. I want to never have to pay full price!

Once I've decided which meats are on sale at a stock up price, I will plan one meal around that protein, and then buy 2 extra (if possible) for the freezer.

Shop your pantry/freezer.

Once you have planned out a couple of dinners around sales items (or if there isn't anything your family eats on sale that week) I will look to my pantry and freezer stockpile to round out the menu.

If you are just starting to learn how to meal plan/shop sales then you probably won't have a stockpile yet, but that's okay. We all have to start somewhere and it shouldn't take very long for your stockpile to grow.

Check your calendar AND the weather.

Meal planning won't be very helpful if you don't plan meals to fit around your family's schedule. If you know that on Tuesdays and Thursdays you're going to be running the kids to different practices after school and won't have much time to cook dinner, PLAN FOR THAT.

Don't plan a dish that takes 45 minutes to prepare if you will only have 15. For those busy evenings, you want to have freezer/slow cooker meals on the menu or even consider cooking that dinner the night before and simply reheating.

Also, take a peek at the weather forecast when sitting down to meal plan. I know that the weather can change, but you want to do all you can to avoid having to grill chicken outside in the middle of a thunderstorm (not that I know anything about that….).

And remember you don't have to stick exactly to your dinner schedule. If something comes up and you need to switch meals around during the week, that's perfectly okay. Just make sure that you don't run the risk of food spoiling before you get to eat it with the changes you've made.

Plan fresh food first.

This is imperative so that you don't end up wasting food, in spite of having created a meal plan. Certain types of produce don't stay fresh as long as others, and in this case you will want to have those towards the beginning of the week.

Sometimes I will purchase Manager's Specials from the meat department, which means the meat was marked down as it is nearing its expiration date, so it will need to be eaten first as well.

Plan like meals together.

This strategy is SUCH A TIMESAVER.
Once I have decided what meals I am going to cook for the week, I look and see which items have similar prep work.

Then when I am adding everything to the calendar, I will plan those meals next to each other. That way I can prepare them both the same night.

What exactly does that look like? Let's say for example I am going to have grilled chicken and hamburgers on the menu. Both need to be grilled, so I will plan them for Weds. and Thurs. night, but grill them both on Weds.

On Thursday it's almost like I don't have to cook, since all I'm doing is heating up the burgers and making a quick side of veggies or salad.

Same idea if something needs to be baked in the oven, or if there are recipes that require me to chop up a lot of vegetables.

Not only is it quicker to do this similar preparations all at once, but I'm only dirtying up the utensils needed once as well.

Keep it simple.

I have been meal planning for almost a decade now, but I still only plan out our dinner meals.

Breakfast is always something simple like cereal or homemade muffins during the week. Sometimes I'll make a restaurant style breakfast (pancakes, eggs, etc) on the Saturday or Sunday morning.

For me it doesn't make sense to plan that out, since I always make sure to have those staples in the house. I also don't plan our lunches. I take leftovers to work for lunch and my kids will have sandwiches (or sometimes leftovers in a Thermos container).

Don't feel the need to include new recipes in your meal rotation from the beginning.

Get used to preparing meals you are already familiar with, and then if you find yourself getting bored you can look for additional recipes. I also only make 1 side to accompany our protein each night and it is always quick veggie.

My youngest children are still pretty picky, but they will eat salad. So often the side is just a green salad which is super quick to put together.

Consider theme nights.

This isn't something I do personally, but I know a lot of families that plan their meals around a certain type of cuisine each night.

For example, Monday might be Italian night, Tuesdays:slow cooker meals, Wednesdays: Mexican food, etc.

That doesn't mean you cook the same dish every week, but it helps structure what type of food you'll be eating and that can be helpful if you're struggling to come up with ideas.

Although I don't create themes for each night of the week, Friday night is usually pizza night at our house and Saturdays we usually go out to dinner (or get take out), which leads me to the next tip.

Thats the beauty of meal planning–that there are many different ways of how to meal plan.  And you have the freedom to do what fits your family!

Plan to eat out.

It doesn't have to be on the same night each week like us, but it's a good idea to give yourself one night a week off from cooking. This will help you to not burn out, especially if you aren't used to preparing meals every night.

You also need to plan for meals out, because you don't want to be purchasing food that won't be eaten (or frozen) before it goes bad.

Have emergency meals available.

Sometimes life gets in the way of even the best laid plans. I always like to pick up a few convenience meals (frozen pizza, chicken tenders, etc) when they are at a stock up price to have in the freezer.

When plans have to change unexpectedly, or I am not feeling well to cook, I don't have to resort to getting food from a restaurant.

I understand that these meals aren't always the healthiest, but it's still better than picking up dinner from a fast food restaurant and is much less expensive.

Put it all on paper.

You will become super overwhelmed if you try to plan/keep track of all this in your head. It needs to be written down somewhere so you can go back and reference it later, and it helps me while I'm creating my shopping list to be able to look at my plan.

It can be as simple as jotting down the meals on a piece of paper and keeping it on the fridge. I like to use a calendar for meal planning, but there are tons of free printables on the web with other formats you can use.

I like to meal plan one week at a time, so I can look at the grocery sales, but some people plan out their meals for the whole month, which might work better for you.

Create a shopping list.

After planning out all the meals you will be serving, write down all of the ingredients you will need.   Take a look through your pantry and freezer/fridge to see what you already have on hand and cross those items off the list.

After taking care of the food you need to purchase for dinner, I then look and see what staple items I am out of (fruit, milk, butter, snacks, etc) and will need for the coming week.

Once I have added the necessities to my list, I will write down all of the super good deals I want to purchase for my stockpile for use at a later date.

When times were lean for us I would even estimate a total and sometimes I'd have to take a few things off the list. Having a plan when you go to the grocery store helps tremendously with cutting down on impulse purchases and staying within budget.

Shop once a week.


When I was younger, I often found myself running to the store after work at least 3 times a week. I didn't know how to meal plan, never made a grocery list or really even thought about what my husband and I were going to eat until right around dinner time.

So of course we were both hungry while shopping, and food that we didn't really need always found it's way into our cart. Staying out of the grocery store is probably the simplest way to save money.

Once you learn how to meal plan, create it, stick to it and shop for everything you need for the entire week,  you shouldn't find yourself running to the store multiple times a week.

Marketers are excellent at their jobs, and if you are in the store often, you will hear unneeded products calling you "Buy me, buy me, I'm so delicious, you have to buy me!"
Now several grocery stores offer services where you can order your groceries online and they will load it into your car, which eliminates even having to go inside the store.

Kroger Grocery Pickup (formerly Clicklist) and Wal-Mart Grocery are two that I have used and can recommend.

There is a fee after the first 3 pickups at Kroger, but Wal-Mart is free when ordering $30 or more.

Imagine never having to step foot into a Wal-Mart again!
Meal planning doesn't have to be difficult and time-consuming. It should be a minimal commitment that gives you big returns on that investment. I promise that once you get into the swing of how to meal plan, it will become a part of your normal routine. You will find yourself wondering how you ever did it any other way!
Are you struggling to get started with how to meal plan?
Here are some inexpensive meal planning services that are a great way to get your feet wet until you feel you can do it on your own:

This service is created by Erin Chase of $5 Dinners. All of the meals in each plan are under $2 per serving and are sent to you weekly.
The cost is $5 each month, and they also offer a 14 day free trial so you can see if this is something you really want/need.
Aside from the weekly meal planning service, $5 Meal Plan also offers several special 6 week meal plans such as Paleo, slow cooker and vegetarian plans. These specialty plans are a one time purchase and you receive all 6 weeks of meal plans at once.
This website provides several different types of weekly meal plans (more than 20 actually). You can choose from vegan, kid friendly and budget plans, to low carb and everything in between.
I also like that this meal plan service has teamed up with AmazonFresh, Walmart Grocery, Kroger ClickList, Shipt and Instacart. If these grocery services are available in your area then eMeals is a one stop shop.
eMeals is $5 per month if you sign up for a full year and they also offer a 14 day free trial.
While this is a much smaller operation than eMeals, it doesn't make me love it any less. Keto eating is near and dear to my heart (read about how I've lost 30 lbs so far after years of failed yo-yo dieting).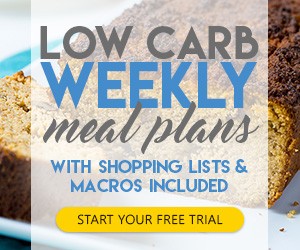 Tasteaholics offers a low carb/Keto style weekly meal planning service. If you have been wanting to start the Keto diet, but are confused or overwhelmed about what you should be eating, you've got to try their menus.
They offer a 7 day trial and the cost is $7.49/month. Even if you don't use this service, their website has a plethora of information and recipes for Keto and is a site I frequent.